On this day, August 8, 1971, the Enchanted Forest Theme park in Turner opened. It enchanted 75 people on its first day.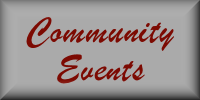 Post an Event

Umatilla County Fair
Wednesday, August 10, 2022 at 10:00 am
Umatilla County Fair Aug. 10th-13th, 2022
1705 E. Airport Rd. PO Box 94 Hermiston, OR 97838

Tillamook County Fair
Wednesday, August 10, 2022 at 10:00 am
www.tillamookfair.com August 10-13 PignFord races, pari-mutual horse racing, destruction derby, nightly entertainment included in entry fee.
4603 Third St, Tillamook, Oregon 97141

CLACKAMAS COUNTY FAIR & RODEO
Tuesday, August 16, 2022 at 10:00 am
CLACKAMAS COUNTY FAIR & RODEO August 16-20, 2022 10am - 10pm
Clackamas County Events Center 694 NE 4th Ave. Canby, OR 97013

Oregon State Fair
Friday, August 26, 2022 at 10:00 am
Which part of the Oregon State Fair are you most excited for? We'll keep adding to the fun all summer long!
Salem, Or

Washington County GOP Reagan Dinner
Saturday, September 17, 2022 at 6:00 pm
Tickets for Reagan Dinner 2022 in Hillsboro September 17th, now on sale at www.washco.gop, featuring former Secretary of State Mike Pompeo.

Oregon General Election
Tuesday, November 8, 2022 at 8:00 pm
Statewide
View All Calendar Events
A year ago, she filed a restraining order against Hernandez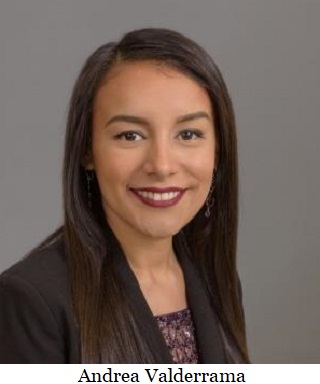 The Multnomah County Board of County Commissioners unanimously appointed Andrea Valderrama (D-Portland) to fill the vacant House District 47 seat formerly held by Representative Diego Hernandez. Valderrama will serve the remaining term of Representative Hernandez, who resigned effective March 15. Valderrama's term will last through the end of 2022.
District 47 is located entirely in East Portland between Interstate 205 and Rockwood. The district is at the center of some of the greatest challenges facing Portland, including increasing traffic deaths, poverty, and racial and health disparities.
"She's been such a strong voice and champion on immigrant rights, on women's rights and education, said Commissioner Jessica Vega Pederson, an East Portland resident and a former representative from House District 47. "I'm really proud to support her today and to look forward to partnering with her as a neighborhood resident, as a county commissioner and a constituent in the really important and big work that we have as we're moving forward."
Valderrama brings more than a decade of experience in policy and budget advocacy, grassroots community organizing and coalition building. Having grown up in poverty, she said she knows firsthand the experience of living paycheck to paycheck. She's also a first-generation college student, earning a bachelor's degree from the University of Oregon and a master's degree from Portland State University.
Most recently, Valderrama served as the policy director for the American Civil Liberties Union of Oregon. A mother and community organizer, she also serves as Chair of the David Douglas School Board. Her endorsements included Senator Kayse Jama (D-Portland), David Douglas School Board Vice Chair Sahar Muranovic, and community activist Deian Salazar.
In March 2020, Valderrama filed a restraining order against then Representative Hernandez. In court documents, Valderrama wrote that while they were living together between January and April 2019, he was prone to violent outbursts, including throwing things at her while under the influence. She said that he usually mixed "alcohol, narcotic pills and marijuana."
"I have also been a mom raising my daughter, I know what it's like to push that stroller in the mud, to be concerned about the lack of lighting and other infrastructure here," Valderrama said. "My lived experience in poverty and my values of economic justice are so critical in this role and really important for me to prioritize in all decision-making as we're looking at recovery."
--Staff Reports
| | |
| --- | --- |
| Post Date: 2021-03-24 09:45:10 | Last Update: 2021-03-24 11:23:40 |
"Everyone should have the ability to get from one place to another without the use of a car"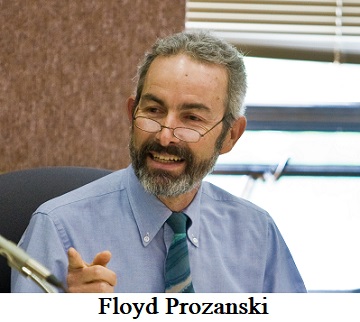 Senator Floyd Prozanski (D-Eugene), is an avid cyclist and the chief sponsor of
SB 395
. A member of his staff, Jennifer Wig, testified on his behalf saying "the goal is to expand access to safe bike and walking infrastructure and to ensure equitable access to that biking and walking infrastructure".
In 2017, the Oregon Legislature passed
HB 2017
referred to as Keep Oregon Moving. It included significant changes to the existing Connect Oregon Grant Fund directing the Oregon Transportation Commission to divide the grant fund into two new parts: 55% for air, marine, rail, bicycle, and pedestrian projects and 45%, for projects of statewide significance in air, marine or rail modes. Beyond the structural changes HB 2017 also included a new, first in the nation, bike tax of $15 each on bikes over $200.
In 2019, the Oregon Legislature again revisited the issue of pedestrian transportation options and passed
HB 2592
. This bill established the Multimodal Active Transportation Fund for bicycle and pedestrian projects. It stated that 7% of the Connect Oregon Fund plus revenues from Oregon's bicycle excise tax were to be used to provide grants for bicycle and pedestrian transportation projects. It also directed $4M of lottery revenues biannually be allocated for outdoor recreation improvement projects related to bicycle and pedestrian projects.
This session,
SB 395
, at the request of The Street Trust led by former Portland mayoral hopeful Sarah Iannarone, looks to once again adjust the funding associated with bicycle and pedestrian projects. It would increase the allocation for footpaths and bicycle trails from 1% to 5% of the State Highway Fund. One of the supporters of
SB 395
, Yamhill County Commissioner Casey Kulla testified that "Everyone should have the ability to get from one place to another without the use of a car". He explained that 1% was not enough for Yamhill county to meet the needs of pedestrian and bicycle infrastructure. He said "In our county we spent our entire 2019 allocation on one separated foot path on one rebuilt bridge.
The project that Commissioner Kulla may be referring to is the Yamhelas Westsider Trail. This was a project he championed starting back in 2013. It was a proposed 13-mile bike and pedestrian trail on an abandoned rail spur from McMinnville through Gaston. The project has been continuously tied up in land use lawsuits and appeals. Most recently, Yamhill County Commissioner Lindsay Berschauer called for an audit of the Yamhelas Westsider Trail bridge construction project. She said "According to my numbers, the county spent approximately $970K of the authorized $1,012,000 from the Connect (Oregon) VI agreement. The county spent an additional $56,250 from the parks grant. When any public agency spends a considerable amount of taxpayer money on a project and the 'finished product' does not reflect the cost or promised deliverables, an audit is warranted".
Commissioner Berschauer's oversight concerns were echoed by testimony on behalf of over 25 Yamhill residents "ODOT authorized further grant expenditures to build a bridge without land use approval or any assurance that the county could meet its land use obligations. Meaning, ODOT authorized an entity to build a bridge to nowhere" the submitted testimony said.
The bill also had concerns from other rural residents throughout the state. Kim McCarrell of Bend had concerns with the bill authorizing electric scooters to be operated on trails and the impact that could have to others who use those trails. Keith LaHaie of Central Point, asked the committee in his written testimony if the 5% increase in spending on footpaths and bike trails is the result of actual demand from residents state-wide or from region specific groups or special interest organizations?
A D V E R T I S E M E N T

A D V E R T I S E M E N T
Supporters of the bill focused on how
SB 395
could assist with equity and climate change. Lee Helfend, OPAL Environmental Justice Oregon shared that negative impacts on our environment from single vehicle occupancy usage create emissions and those have "harmful impacts disproportionately affect communities of color, low-income communities, and other vulnerable populations that lack the time and resources to fully advocate for themselves in this process". He also added that "as part of the rule-making advisory committee for the Governor's
executive order
directing state agencies to take actions to reduce and regulate greenhouse gas emissions on climate change, we've had in-depth conversations around how we cannot only address the climate crisis, but also center equity and inclusion in this charge". Brett Morgan, Metro Regional Advocacy Manager for 1,000 Friends of Oregon agreed. He said "Ensuring that we begin prioritize non-automotive investments is a critical equity issue for those that are transportation disadvantaged, and for Oregon's Black, Indigenous, Latinx, Asian American Pacific Islander, and other communities of color.
The bill is currently in the Joint Committee on Transportation.
--Terese Humboldt
| | |
| --- | --- |
| Post Date: 2021-03-24 09:14:24 | Last Update: 2021-03-24 09:45:10 |
Cities would be forced to conform
Two laws are now being proposed by Oregon Democrats that would essentially forcibly allow homeless camping in every Oregon city. Both
HB2367
and
HB 3115
are currently being discussed in the House Judiciary Committee.
Similar legislation had been attempted by the Democrats in 2017 with
HB 2215
and failed. At the time, the public was allowed to lobby the state officials in person and attend committee meetings. However this current 2021 legislative session is seeing aggressive moves from the Democrats to push through heavy handed policy and constitutional changes while the public is essentially unable to participate due to the Capitol building having banned the general public from attending.
While being discussed in a House Judiciary Committee meeting on March 9th, City of Hillsboro attorney Chad Jacobs explains that all cities in Oregon would be forced to change their ordinances to allow for the homeless encampments.
HB 2367 states that it would make violations of this "Right to Rest Act" to be unlawful practice enforceable by Commissioner of Bureau of Labor and Industries or by civil action. In other words, the state would threaten action against any city that does not accept the terms of the Act.
--Bruce Armstrong
| | |
| --- | --- |
| Post Date: 2021-03-24 06:41:30 | Last Update: 2021-03-24 07:04:03 |
Soft on violent criminals by reducing sentences
The Senate Judiciary Committee heard testimony about a bill that would gut Measure 11, and go soft on violent criminals. Under the guise of "criminal justice reform,"
SB 401
would allow rapists, attempted murders, child pornographers, and kidnappers to get up to 40% off their sentences, and is a part of a suite of bills intended to gut the spirit of Measure 11. This bill was introduced by the Senate Judiciary Committee which is chaired by Senator Floyd Prozanski (D-Eugene)
Recent polling shows that a strong majority of Oregonians support maintaining or increasing sentencing requirements for violent offenders like rapists and murderers. 78% of Oregon voters also oppose repealing Measure 11, which
SB 401
effectively does.
"This is a perfect example of the Democratic supermajority's extreme disregard for bipartisanship and consensus-building," Senate Republican Leader Fred Girod (R-Lyons) said. "Reasonable criminal justice reforms are possible, but instead Democrats opt to take the extreme position that rapists, kidnappers, and child abusers should be given lesser penalties."
"Proponents of
SB 401
cherry-pick the mildest offenses to justify completely rewriting punishments for violent criminals," Vice-Chair of the Senate Judiciary Committee, Senator Kim Thatcher (R-Keizer) said. "For victims trying to move on and heal from abuse, letting their abusers off with lesser sentences is unconscionable.
"Gutting Measure 11 would make our communities less safe. It guarantees that those who prey on kids and assault our neighbors get time in prison that they deserve. These sentencing guidelines give victims of heinous crimes the certainty they deserve; Repealing them will destroy trust in our criminal justice system."
Today, eight of the nine female prosecutors in Oregon issued a letter outlining how dangerous bills, like
SB 401
, in the legislature would cause more victims to suffer in silence.
SB 401
is scheduled for a work session on April 7. The Northwest Observer is featuring a
multipart series on Measure 11.
--Staff Reports
| | |
| --- | --- |
| Post Date: 2021-03-23 18:02:54 | Last Update: 2021-03-23 18:18:26 |
Oregon does not ask permission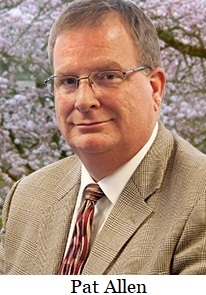 Parents' Rights in Education is asking: "Do Oregon parents know that the Oregon Health Authority gathers private info about their children?" The Oregon Health Authority, under the direction of Pat Allen, gives students the
Oregon Student Health survey
every two years starting at age 10. When they reviewed the survey for 2020, they found profiling questions giving 17 choices for face or ethnicity, along with sexual identity, and socio economic questions. The 36 page survey probes into their home life, personal sexual experiences and whether condoms are used, drinking and smoking habits, and yes there are COVID-19 questions including job loss and suicide. When the question is asked who did you go to about physical or mental health problems, parents wasn't an option, not even to write in.
Reading how the questions are framed, it becomes clear they are promoting School-Based Health Centers and diverting the student away from parental controls. It's accentuated by questions like who at school really cares about you, or who notices when you're absent.
There is a heightened awareness regarding race and ethnicity, sexual identity, bullying and how those factors affect a suggestion of feelings, depression and self-harm. If they're not depressed by the end of those questions, they are asked about hygiene, eating, gambling, drinking, smoking and sexual habits. To be continued with questions on what they and family members think about these habits along with questions about family members being depressed, drinking, and what makes them fearful.
When Parents' Rights in Education investigated the dangerous and invasive content shown to 10-year-olds, they discovered the survey was illegal under: 20 U.S.C. § 1232h - U.S. Code - Unannotated Title 20. Education § 1232h. Protection of pupil rights, which puts limits on survey, analysis, or evaluations.
No student shall be required, as part of any applicable program, to submit to a survey, analysis, or evaluation that reveals information concerning--
(1) political affiliations or beliefs of the student or the student's parent
(2) mental or psychological problems of the student or the student's family
(3) sex behavior or attitudes
(4) illegal, anti-social, self-incriminating, or demeaning behavior
(5) critical appraisals of other individuals with whom respondents have close family relationships
(6) legally recognized privileged or analogous relationships, such as those of lawyers, physicians, and ministers
(7) religious practices, affiliations, or beliefs of the student or student's parent, or
(8) income (other than that required by law to determine eligibility for participation in a program or for receiving financial assistance under such program).
As Parents' Rights in Education points out, Oregon does not ask permission. Parental/guardian permission is assumed if not physically submitting a filled-out Oregon Student Opt-Out Form, which most schools provide parents at the beginning of the school year regarding all permission activities. However, the Opt-Out Form only lists:
Human Sexuality Education
Sexually Transmitted Disease (STD) and Sexually Transmitted Infection (STI) Education
Immunization
Mental Health Screening
No where does it allow an opt-out for health surveys. What does the Oregon Health Authority do with this possibly illegally acquired information about you, your student and your family's thinking and habits through the eyes of your 10-year-old?
--Staff Reports
| | |
| --- | --- |
| Post Date: 2021-03-23 16:27:03 | Last Update: 2021-03-23 18:02:54 |
SB 223 Targets Private Schools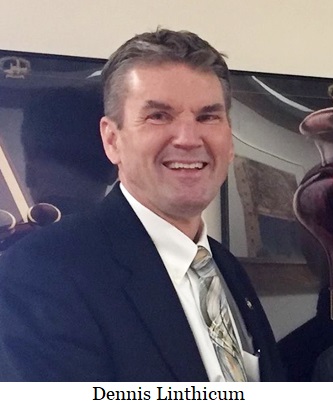 Sen. Linthicum on Democrats Targeting Private Schools with SB 223 Senator Dennis Linthicum (R-Klamath Falls) issued a statement on
SB 223
, which he calls a direct attack on private schools through mandatory state registration:
"The state is seeking complete control of Oregon's private schools with SB 223. The bill claims to allow 'voluntary' registration for private and religious schools with the Department of Education. However, it insidiously forbids schools that choose not to register from participating with other organizations that provide accredited interscholastic activities, such as sports, music, vocational training, or apprenticeships.
"Private schools are already accredited, and many private schools out-perform their peers in public schools. SB 223 would allow state bureaucrats and their special interest counterparts to actively hijack local, independent, and community-controlled educational opportunities. Centralized state control would thwart local school board initiatives and squash parental contributions and insight.
"Pressuring private schools to abandon their fruitful endeavors for obedience to the state's one-size-fits-all regimen will dismantle the private, religious, parochial, and charter school paradigms that have been successful in Oregon. The corrosive pressure from the woke-minority of the Democrat-led legislature will undermine scholastic competition, traditional values, and American ideals that have been integral components of our educational heritage.
"I see increased educational opportunities as the solution to Oregon's failing school performance problem. Parents with genuine concerns need better alternatives for improving the lives of their children, and SB 223 does the opposite by taking school choice options from those parents.
SB 223
has no sponsor. It was introduced by the Senate Committee on Education, chaired by Senator Michael Dembrow (D-Portland).
Senator Linthicum has made it a priority to advocate for school choice and has sponsored three bills this session:
SB 657
increases the percentage of kids who can enroll in virtual charter schools from 3% to 5%.
SB 658
would establish an education savings account program to give low-income families the ability to choose a private school without tax penalties.
SB 659
allows any child to attend any school in the state without the approval of the school board.
--Staff Reports
| | |
| --- | --- |
| Post Date: 2021-03-23 10:59:36 | Last Update: 2021-03-23 12:15:08 |
Other distance guidelines have been adjusted
Referencing a
recent change
announced by the Centers for Disease Control and Prevention, the Oregon Department of Education has changed it's guidelines for distancing between students in the classroom from six fee to three feet.
In
a letter
announcing the changes, the Oregon Department of Education said, "The Center for Disease Control's March 19, 2021 Science Brief revised physical distancing recommendations for K-12 schools to reflect at least 3 feet between students in classrooms and provides clearer guidance when 6 feet is recommended or required." The Oregon Department of Education is Directed by Colt Gill.
The 89 page manual for school guidelines, entitled
Ready Schools, Safe Learners
has been updated, and several other changes have been made.
Revised physical distancing requirements to align to new CDC guidance outlining the conditions for when at least 3 feet apart is possible for between students.
Removed requirements for 35 square feet and revised requirements and recommendations to align to new CDC guidance.
Revision to cohorting requirements and recommendations. Cohorts up to 36 students recommended. Removal of the 100 person maximum limit in cohort design.
Added requirement that desks face in the same direction, where possible.
Added requirement that 6 feet should be maintained when masks cannot be worn, including when eating. Removed requirement for establishing a minimum of 35 square feet.
Removed requirement for establishing a minimum of 35 square feet.
Added requirement to maintain 6 feet physical distancing for all levels (K–12) during activities involving increased exhalation, such as singing, shouting, band, sports, or physical activity.
Revised the definition of "physical distancing" and added a new definition of a "distinct cohort."
The Oregon Department of Education letter
makes a strong case for continued mask wearing:
"SARS-CoV-2 infection is transmitted predominantly by respiratory droplets generated when people cough, sneeze, sing, talk, or breathe. CDC recommends community use of masks, specifically non-valved multi-layer cloth masks, to prevent transmission of SARS- CoV-2. Masks are primarily intended to reduce the emission of virus-laden droplets ("source control"), which is especially relevant for asymptomatic or presymptomatic infected wearers who feel well and may be unaware of their infectiousness to others, and who are estimated to account for more than 50% of transmissions. Masks also help reduce inhalation of these droplets by the wearer ("filtration for personal protection"). The community benefit of masking for SARS-CoV-2 control is due to the combination of these effects; individual prevention benefit increases with increasing numbers of people using masks consistently and correctly."
It goes on to cite extensive research that has informed changes in the guidance.
--Staff Reports
| | |
| --- | --- |
| Post Date: 2021-03-23 10:24:29 | Last Update: 2021-03-23 10:59:36 |
The low range of the sentencing guidelines was the norm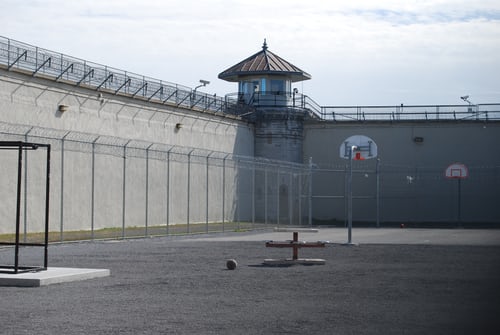 Editor's note: This is the third of a multi-part series on Measure 11 and its impact on crime. This series is adapted from letters written to the legislature by Kevin Mannix, the author of Measure 11.
The reality of the sentencing guidelines as they were actually carried out in 1994, the last year before Measure 11 went into effect, is that the low range of the sentencing guidelines was the norm. In fact, in many cases convictions for very serious crimes lead to sentences under sentencing guidelines of probation rather than incarceration in state prisons.
For example, in 1994 60 persons were convicted of Rape in the First Degree. Five of these 60 convicted rapists were sentenced to probation rather than prison under the complex formula of sentencing guidelines. This was the case even though the lowest guideline sentence for Rape in the First Degree was supposed to be 34 months.
Proponents of the elimination of Measure 11 argue that it is sufficient to rely on the felony sentencing guidelines system. So, it is helpful to compare the mandatory minimum prison sentence under Measure 11 with the guideline sentence range.
Crime
1994 Sentencing
Guidelines in Months
Measure 11 Mandatory
Minimum Sentence
in Months
Murder
120-269
300
Manslaughter in the first degree
58-130
120
Manslaughter in the second degree
16-45
75
Assault in the first degree
34-130
90
Assault in the second degree
16-45
70
Kidnapping in the first degree
58-130
90
Kidnapping in the second degree
34-72
70
Rape in the first degree
34-130
100
Rape in the second degree
16-45
75
Sodomy in the first degree
34-130
100
Sodomy in the second degree
16-45
75
Unlawful sexual penetration in the first degree
34-130
100
Unlawful sexual penetration in the second degree
16-45
75
Sexual abuse in the first degree
16-45
75
Robbery in the first degree
34-72
90
Robbery in the second degree
Probation or up to 30 months in local jail
70
--Staff Reports
| | |
| --- | --- |
| Post Date: 2021-03-23 09:50:27 | Last Update: 2021-03-20 20:41:15 |
Marijuana sales revenue to schools may go up in smoke
In 2014, Oregon was the 3rd state in the nation to make possession and sale of recreational marijuana legal. 56% of Oregonians voted in favor of
Ballot Measure 91
. In Multnomah County, 69% of the voters approved it. In Nov. 2014, the Oregonian published an article on the passage of
Ballot Measure 91
. Longtime Advocate Anthony Johnson was quoted as saying "We have ended a painful, discriminatory, harmful policy that has terrible consequences for our state, we replaced it with a policy that is smarter, more humane...It's a policy whose time has come."
Ballot Measure 91
was a way to correct the racially disproportionate citation, arrest and conviction of minorities related to marijuana use. However, one of the other selling features was the large portion, 40%, of the revenue that would be sent to help with the state school fund.
In 2020,
Ballot Measure 110
was approved by 58% of the voters. It made personal non-commercial possession of a controlled substance no more than a Class E violation (max fine of $100 fine) and established a drug addiction treatment and recovery program funded in part by the state's marijuana tax revenue and state prison savings. What was not widely known by voters was that the Common State School fund would also be taking a reduction in revenue from marijuana sales in order to help create the Drug Treatment and Recovery Services Fund.
Now, less that four months after the passage of
Ballot Measure 110
,
HB 3112
has been introduced by a group of Democratic Representative and Senators looking to change the formula yet again. One of the chief Sponsors of the bill, first term Representative Ruiz (D-Gresham) testified in the Judiciary Committee earlier this month that "
HB 3112
creates the Cannabis Equity Fund. This fund is aimed to invest in home ownership, job placement, skill building, small business support and education for Black, Indigenous, and Latin X communities. The inequities between Oregonians are addressable and the growing cannabis industry presents us with the ability to address them."
Representative Ruiz was joined by many other supports of the legislation. In written testimony from the Office of Community & Civic Life, Cannabis Program, they shared that "over 100 years of draconian cannabis policies and disparate cannabis related arrests, convictions, and sentencing have had long-lasting legal, social, economic, and inter-generational consequences to these specific communities….and
HB 3112
is an opportunity for the state to pass the most comprehensive and truly effective cannabis equity legislation in the United States".
A D V E R T I S E M E N T

A D V E R T I S E M E N T
The bill also establishes the Cannabis Equity Board within the Governor's office to provide equity oversight of Oregon's cannabis industry. It would monitor and oversee the new Cannabis Equity Fund formed by redirecting marijuana tax revenues from the Oregon marijuana account and the elimination of the existing Oregon marijuana account currently overseen by the Oregon Liquor Control Commission (OLCC). The Board would make sure that the cannabis industry does everything possible to address diversity and represent communities most negatively impacted by the historic cannabis prohibition. It would also give direction to OLCC regarding licensing for those in the marijuana industry and include a reduced-fee equity license for those applicants that have been convicted of a marijuana related crime in the past that are also from a minority group.
The Oregon Department of Revenue prepared a report for the committee on the Marijuana tax distribution showing the history of
Ballot Measure 91
, the changes already passed in
Ballot Measure 110
and the projections if
HB 3112
passes. Using projected revenues from the Office of Economic Analysis for the 21-23 biennium, $318.45M was used to show the distribution of the adopted ballot measure compared to the proposed
HB 3112
. The change would look as follows:
Ballot
Measure 91
Ballot
Measure 110
HB 3112
Transferred to the Common School Fund
$103.5 M
$36 M
$27 M
Transferred to the Oregon Health Authority
$51.7 M
$18 M
$3.375 M
Transferred to the Oregon State Police Account
$38.8 M
$13.5 M
$0
Sent to Cities
$25.7 M
$9 M
$6.75 M
Sent to Counties
$25.7 M
$9 M
$6.75 M
Transferred to the Oregon Health Authority
$12.9 M
$$4.5 M
$13.5 M
Drug Treatment and Recovery Services Fund
NA
$228.45 M
$228.45 M
Cannabis Equity Fund
NA
NA
$22.5 M
Cannabis Equity Fund (formerly Oregon State Police
NA
NA
$10.125 M
What was not discussed in the hearing on the bill, was the loss and redirection of the marijuana funding and the impacts to the Common School Fund.
Ballot Measure 110
cut the Common School Fund by almost 1/3.
HB 3112
would cut it by 75% from the original
Ballot Measure 91
in 2014. There was also no discussion about the additional restrictions that
HB 3112
would place on the funds that the Common School Fund would still receive. The bill removes the "State School Fund
ORS 327.008
– which is the state school general fund and replaces it with restrictions that are culturally targeted. It says that money received by the state school fund must be used under the following restrictions:
(20%) Twenty percent of the 40 percent solely for the purposes described in ORS 329.841 which covers Statewide education plan for students who are Black or African-American or who are members of a student group not covered by existing culturally specific plan
(10%) Ten percent of the 40 percent solely for the purposes described in ORS 329.843 which covers Statewide education plan for students who are American Indian or Alaskan Native
(10%) Ten percent of the 40 percent solely for the purposes described in ORS 329.845 which covers Statewide education plan for students who are Latino or Hispanic.
The bill will have another hearing on March 23 and it is scheduled for a work session on April 8.
--Terese Humboldt
| | |
| --- | --- |
| Post Date: 2021-03-22 17:14:14 | Last Update: 2021-03-22 21:46:11 |
If you fear the media, remember, you have already been labeled
Several activist groups have written
an open letter to the Oregon Senate Republicans
. It reads:
Stop allowing the majority party to eviscerate the rights and liberties of all Oregonians. This letter is a combined effort from the leaders of groups and communities across our state, who speak on behalf of the hundreds of thousands of members we represent from all backgrounds, color, creed, age, gender, religion, and political ideologies: Senate Republicans, you have our full support to walk out before irreparable harm occurs due to the policies set forth, this legislative session.
We, as Oregonians, are witnessing the makings of a societal train wreck, and the complete destruction of our State, if the current agenda is tacitly consented to, via quorum requirements. The supermajority Democrats won't work collectively or collaboratively on many of the core issues Oregonians care about, and we are watching them dominate the 2021 legislative session with an agenda that ignores Oregon families. Rebuilding our economy, and providing structure for a secure, safe and vibrant future must be our focus.
Radicals within the Democratic Caucus don't feel they need to collaborate with the public, due to their supermajority status, and they certainly won't, unless we use our last bargaining chip. They have removed the referendum process, by adding emergency clauses onto proposed bills to prevent a public vote and have locked the people—and even some media—out of the capitol. In fact, their elitist attitude has brought them to the belief that they are our collective leaders, not our elected representatives.
Our legislators have critical issues to address, and putting continued time and resources towards one-sided social engineering is marginalizing a large number of Oregonians, and indifferent to human suffering.
Who would have thought that after such a challenging and costly time for Oregonians, one party would focus their efforts on special interest bills, such as crippling new tax increases like a 30-60% increase in property taxes and an exorbitant beer and wine tax, micromanaging our local schools, expanding the Oregon Health Authority's power within educational institutions, and rewarding criminal behavior? There are just too many proposed bad bills and issues to list here. Governor Kate Brown preaches equity and equality, but not for law abiding taxpayers who see their rights evaporating while our cities burn.
This legislative session, we are witnessing an across-the-board assault on our values and the constitutionally protected freedoms held dear by countless Oregonians.
Our priorities should be getting kids back to school, in person and full time, and helping workers and small businesses recover—not doing all we can to perpetuate failed, costly and untested policies that deride the very fabric of society and place unforetold consequences and risk upon the next generation of Oregonians. If the proposed bills pass, they will forever change the physical, economical, emotional, and livable landscape here in Oregon.
While some Republicans have claimed they need to continue to allow these attacks on our liberties so they can influence redistricting, under the current leadership, it is clear that Secretary of State Shemia Fagan will ignore Republican input. If public meetings are being abruptly closed after important, clarifying questions are being asked but then censored for comment (as we saw during Senator Dallas Heard's simple committee question directed to the Police Chief providing testimony), what realistic chance do you have to provide influence over the redistricting process?
Fagan, whose extreme partisanship is reflected in her almost daily fundraising emails, is determined to hijack the process irrespective of your attendance. She has even hired outside counsel specializing in Constitutional law, instead of relying upon the Attorney General's office, as every other Secretary of State has previously, and legally, done.
We can all agree, the state of Oregon has been run very poorly. The hundreds of thousands of Oregonians who were victims of the failed unemployment claim system can attest to that, and a recent poll,
reported on by The Oregonian
, reveals that Governor Kate Brown's already low approval rating has now "tanked" after this past year.
A D V E R T I S E M E N T

A D V E R T I S E M E N T
In 2019, Republican Senators walked out TWICE and we stood behind you, because you walked out to protect our people and our families against radical proposed legislation.
If you won't stop what is coming this week, there's nothing to stop the steamroller of dangerous, unproven and failed policies being rammed through by the ruling party.
If you fear the media, remember, you have already been labeled, simply because you are a Republican Senator trying to uphold the constitution, just as many of our groups—with which you claim to share values— have already been falsely labeled as "extremist." We have suffered censorship, baseless attacks and even slander, yet continue to press forward in our efforts despite these assaults. Will you stand up for us and protect us, or will you allow them to silence our voices?
Unelected bureaucrats continue to formulate, enforce, and extend draconian regulations with no input from elected representatives, and the people are still locked out of the process as the Democrats continue to pretend that a failure-prone "virtual" reality and biased treatment of testimonial guests is a substitute for face-to-face engagement.
Your continued participation in this process will not help the people who elected you to protect their rights and liberties. We urge you in the strongest possible terms to, once again, display the courage that served you, and countless Oregonians, so well in the past.
You won't get favorable media coverage by the mainstream, left-leaning media anyway, and if you don't walk, you will face major backlash and negative press from the conservative media as well. Staying will not help the people or our precious children who look to those that have come before them to protect their future. Republicans, what happened when you came back to the capitol? The Democrats came to the table and negotiated a reasonable outcome. There were clear benefits to your party that included reelection and an overall increase in seats held across the legislature. Let's not forget that your past willingness to stand up increased your standing with your supporters and constituents, who celebrated you as heroes, many of which became first-time Republican voters because of your bravery.
We urge you to walk out and not return until the Oregon Democrats agree to stop these alarming and irreversible attacks on our inalienable and inherent rights.
What other recourse do we, law-abiding Oregon citizens who do not consent, have at this point? Many of the organizations that have signed onto this open letter have supported Republican legislators with both their votes and contributions for candidates.
While the aim of this letter is NOT to talk politics, we ask you, Senate Republicans, to once more, hold the line for the safety and protection of Oregonians. We must all stand TOGETHER in fighting against this special interest agenda before it's too late to continue working and living in our beautiful state.
If you don't walk, you risk losing ground with all your supporters. We understand the sacrifices you would be making. Remember, we have all been making great sacrifices this past year—since the "two weeks to flatten the curve" were announced. We all feel the crippling effects of overreaching policies, and we need your leadership now more than ever.
We ask you to unite, as we have, for the good of the people of Oregon, for your families and ours, and the very future of our state, before it's too late. Unprecedented times require unprecedented acts of great courage in the face of failure and fury.
Please, it's YOUR responsibility to stand up for US. We are calling on our members to
contact Senate Republican Leader Fred Girod
, and the rest of the
Senate Republicans
.
Signed,
Oregonians for Fair Elections
Oregon Grassroots United
Democrats for Informed Choice
Libertarian Party of Oregon, PAC
Oregon Push Back
Columbia County Republicans
Oregon Liberty Coalition
Freedom Believers
Oregonians For America
Free Oregon
Oregonians for Medical Freedom
Representative Jeff Kropf (Ret)
Richard P. Burke, Former Chair, Oregon Government Ethics Commission
The Northwest Connection Newspaper, JoLinn Kampstra, Publisher
Oregon Department of Education Fight Club
Peoples Rights Oregon
Oregon Citizen Lobby
The Roseburg Beacon Newspaper
Parents' Rights In Education, PAC
Oregon Firearms Federation
Rob Taylor Chair of the Committee to Preserve the Second Amendment
Lindsey Graham, former Glamour Salon owner and founder, Patriot Barbie
Lyle Mordhorst Polk County Commissioner
Mae Huston, Jefferson County Commissioner
Chairman William Harvey Baker County Commission
Mary Starrett, Chair, Yamhill County Board of Commissioners
Robert "Bob" Main, Chairman, Coos County Commissioner
--Staff Reports
| | |
| --- | --- |
| Post Date: 2021-03-22 16:09:55 | Last Update: 2021-04-15 14:39:26 |
Diagnosis delays Oregon House floor sessions until next week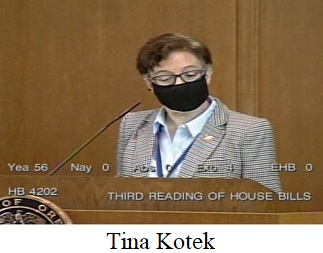 Oregon House Speaker Tina Kotek (D-Portland) issued a statement today announcing that the Oregon Legislature learned that an individual who was present at the Capitol has been diagnosed with COVID-19. Potential exposure may have occurred on the floor of the Oregon House of Representatives on March 15 and March 16. This was confirmed by Jessica Knieling, Interim Human Resources Director at the Capitol. She said "We have been notified an individual who has been present at the Capitol has been diagnosed with COVID-19. We are notifying those individuals who appear to have had close contact with the individual."
Human resources for the branch is notifying all individuals who appear to have had close contact with the individual. Due to HIPAA laws, no further information will be disclosed about the individual who tested positive.
After consulting with Marion County Public Health, the Legislature has been advised that all symptom-free individuals who were on the House Floor should quarantine for 10 days following the last exposure, which is through Friday, March 26. The House will not return to floor session until Monday, March 29, at the earliest. Committee work, which is being done remotely, will continue as planned.
Anyone who shows symptoms should be tested and quarantine for at least 14 days. Testing is also being encouraged for anyone who was on the House Floor. Facilities staff will fumigate the House chamber and wings today and continue to diligently, thoroughly and regularly clean the Capitol in line with the CDC's guidance on environmental cleaning and disinfection.
House Republican Leader Christine Drazan (R-Canby) said, "First and foremost, I hope that the individual who tested positive makes a speedy and full recovery. We all knew that this outcome was possible, which is why we have taken additional precautions since the start of this session to minimize risks for individuals who must be in the building.
"Out of an abundance of caution, my immediate recommendation is for legislators and staff to minimize the risk of an outbreak in Oregon's capitol by returning home and quarantining for 10-14 days from the date of possible exposure per OHA's recommended guidelines and schedule testing. There are several elected members from the House with underlying conditions who have not had the opportunity to vaccinate yet.
"We need to do everything we can to keep everyone safe in the building."
--Staff Reports
| | |
| --- | --- |
| Post Date: 2021-03-22 16:02:34 | Last Update: 2021-03-22 22:01:20 |
Police find gun, stolen car, drugs on welfare check call
On March 21, 2021, at about 3:30 a.m., Portland Police officers assigned to North Precinct were dispatched to check the welfare of a person passed out behind the wheel of a stolen car. The car was in a parking lot near Northeast Wasco Street and Northeast Grand Avenue.
When officers arrived they found a person still passed out in the driver seat. They could see a pistol on the front passenger seat in plain sight. Officers took the driver into custody, and conducted an investigation.
Officers determined the suspect, later identified as 58-year-old Robert Marshall Chambers, was in possession of over 27 pounds of marijuana, over 11 grams of methamphetamine, and about one and half grams of heroin. Officers recovered the drugs and other evidence, as well as the loaded pistol and stolen car. Chambers had stolen property officers were able to return to rightful owners.
Chambers was booked into jail for Unlawful Possession of a Loaded Firearm, Felon in Possession of a Firearm, Distributing a Controlled Substance -- Heroin, Distributing a Controlled Substance -- Methamphetamine, Distributing a Controlled Substance -- Over 8 pounds of Marijuana in Public Place.
--Bruce Armstrong
| | |
| --- | --- |
| Post Date: 2021-03-22 13:10:08 | Last Update: 2021-03-22 13:16:43 |
Read More Articles