On this day, February 6, 2002, The Oregon Health Division released statistics on assisted suicides for the previous year. 44 people received prescriptions for lethal medication but only 21 actually took their lives.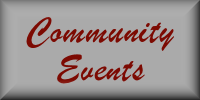 Post an Event

The Oregon Constitution
Wednesday, February 22, 2023 at 7:00 pm
First of a three part series presented by former State Representative Mike Nearman studying the Oregon Constitution.
The River Church 4675 Portland Rd NE Salem

The Oregon Constitution
Wednesday, March 1, 2023 at 7:00 pm
Second of a three part series presented by former State Representative Mike Nearman studying the Oregon Constitution.
The River Church 4675 Portland Rd NE Salem

The Oregon Constitution
Wednesday, March 8, 2023 at 7:00 pm
Third of a three part series presented by former State Representative Mike Nearman studying the Oregon Constitution.
The River Church 4675 Portland Rd NE Salem

We Are Stronger Together
Monday, March 27, 2023 at 10:00 am
Oregon's Natural Resources & Industries (ONRI) is sponsoring the rally to meet legislators and influencers to bring light on legislation affecting natural resource industries, their families, and their communities. https://onri.us/events
Rally at the State Capitol, Salem.
View All Calendar Events
Dude, rural counties got the munchies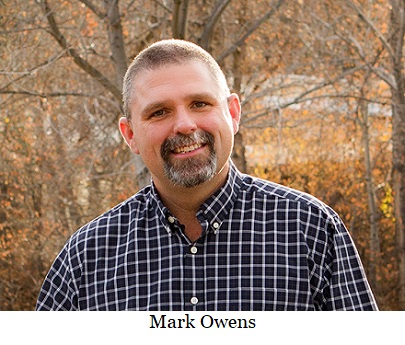 Editor's note: This is the fourth in a multipart series exploring tax measures before the Oregon Legislature during the 2021 session
Marijuana taxes
have become a big part of Oregon's budget, brining in a whopping $133,150,349 in fiscal year 2020. 40% of that goes to schools and 15% goes to the State Police, so over half of the revenue is offsetting general fund money that would otherwise have to be paid by Oregon income taxpayers. It's play money for the Governor and the Legislature.
Since the passage of
Ballot Measure 91
in 2014, marijuana has been seen as a cash cow, and like many other addictive products, there is incentive to turn up the spigot and generate even more revenue -- or at least change the rules for distributing the revenue.. People who are opposed in general to marijuana might support a tax increase also.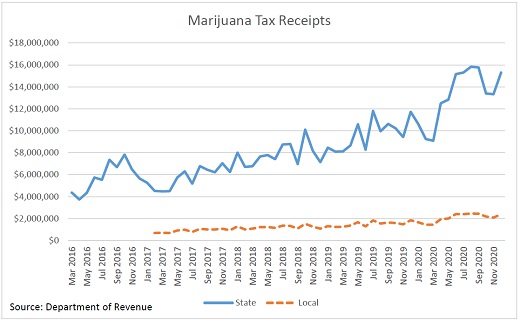 Right now, local taxes on pot are capped at 3% and have to be approved by the voters. State Representative Mark Owens (R-Crane) has a proposal,
HB 2015
, which would raise that cap to 10%. Some might argue that it's a sin tax and might deter some from weed, while generating revenue for local communities.
He's also introduced
HB 2014
which changes the formula for redistributing marijuana revenue to cites -- currently based solely on population -- and bases it partly on sales.
--Staff Reports
| | |
| --- | --- |
| Post Date: 2021-03-25 09:32:15 | Last Update: 2021-03-20 21:46:31 |
By effectively rooting out fraudulent information, you can prevent death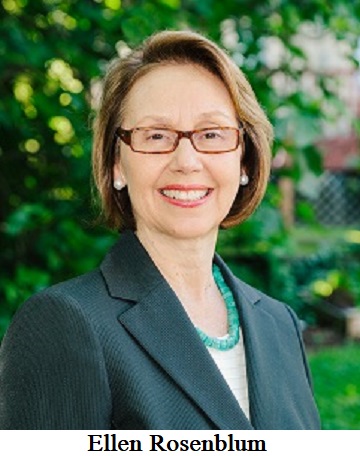 Oregon's Attorney General, Ellen Rosenblum (D-Portland) has signed on to
a letter
originated by the Attorney General of Connecticut to Jack Dorsey, CEO of Twitter and Mark Zukerberg, Chairman and CEO of Facebook asking them "to take immediate steps to fully enforce your companies' guidelines against vaccine misinformation."
In this, the latest play in the information suppression scandal surrounding social media, the rhetoric has reached a new level. According to some, it's scandalous that the level of paranoia and suppression of free exchange of ideas has reached these heights.
The letter, making several references to "anti-vaxxers" calls for nothing less than the suppression of speech. It reads:
As Attorneys General committed to protecting the safety and well-being of the residents of our states, we write to express our concern about the use of your platforms to spread fraudulent information about coronavirus vaccines and to seek your cooperation in curtailing the dissemination of such information. The people and groups spreading falsehoods and misleading Americans about the safety of coronavirus vaccines are threatening the health of our communities, slowing progress in getting our residents protected from the virus, and undermining economic recovery in our states.

As safe and effective vaccines become available, the end of this pandemic is in sight. This end, however, depends on the widespread acceptance of these vaccines as safe and effective. Unfortunately, misinformation disseminated via your platforms has increased vaccine hesitancy, which will slow economic recovery and, more importantly, ultimately cause even more unnecessary deaths. A small group of individuals use your platforms to downplay the dangers of COVID-19 and spread misinformation about the safety of vaccines. These individuals lack medical expertise and are often motivated by financial interests. According to a recent report by the Center for Countering Digital Hate, so-called "anti-vaxxer" accounts on Facebook, YouTube, Instagram, and Twitter reach more than 59 million followers. "Anti-vaxxers" are using social media platforms to target people of color and Black Americans specifically, members of communities who have suffered the worst health impacts of the virus and whose vaccination rates are lagging.

Given "anti-vaxxers'" reliance on your platforms, you are uniquely positioned to prevent the spread of misinformation about coronavirus vaccines that poses a direct threat to the health and safety of millions of Americans in our states and that will prolong our road to recovery.
A D V E R T I S E M E N T

A D V E R T I S E M E N T
The updated community guidelines you have established to prevent the spread of vaccine misinformation appear to be a step in the right direction. However, it is apparent that Facebook has not taken sufficient action to identify violations and enforce these guidelines by removing and labelling misinformation and banning repeat offenders. As a result, anti-vaccine misinformation continues to spread on your platforms, in violation of your community standards.
Twitter and Facebook have yet to remove from all their platforms the accounts of prominent "anti-vaxxers" who have repeatedly violated the companies' terms of service. Digital media research groups estimate that as of March 10, 12 "anti-vaxxers'" personal accounts and their associated organizations, groups and websites are responsible for 65% of public anti-vaccine content on Facebook, Instagram, and Twitter.
Facebook has failed to consistently apply misinformation labels and popups on Facebook pages and groups that discuss vaccines or COVID-19. For example, the company neglected to apply warning labels on dozens of Facebook groups that "anti-vaxxer" Larry Cook created for his followers. At the same time, the company has mistakenly flagged pro-vaccine pages and content in ways that have undermined pro-vaccine public education efforts.
Facebook has allowed anti-vaxxers to skirt its policy of removing misinformation that health experts have debunked, by failing to prevent them from using video and streaming tools like Facebook Live and sites like Bitchute, Rumble, and Brighteon to evade detection.
We call on you to take immediate steps to fully enforce your companies' guidelines against vaccine misinformation. By effectively rooting out fraudulent information about coronavirus vaccines, you can prevent needless illness and death and hasten our road to recovery.
One wonders, if the ideas of the so-called "anti-vaxxers" are so outrageous, that allowing them to persist in public might be a more effective way to control so-called "misinformation." Similarly, if the vaccines are truly safe and effective, the so-called "anti-vaxxers" would only be a threat to themselves, and not to those who have taken the vaccines.
--Staff Reports
| | |
| --- | --- |
| Post Date: 2021-03-25 09:28:50 | Last Update: 2021-03-25 01:34:36 |
"We must create a more just and equitable Oregon"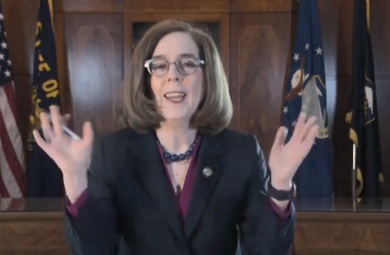 Governor Kate Brown has released a
10-Point Economic Recovery Plan
for Oregon. The 10-Point Plan, which was developed with input from the Governor's Council of Economic Advisors and Racial Justice Council, builds on the work of local economic development districts across the state to help Oregon families and businesses. It provides a framework for economic recovery related to COVID-19 and wildfires, with a specific focus on strategically supporting Black, Indigenous, and People of Color communities.
The Governor also outlined her principles for the use of federal
American Rescue Plan
resources, to guide state agencies and local governments in making investments that will maximize immediate benefits for Oregonians in an equitable way.
"Thanks in part to the passage of the American Rescue Plan, Oregon's outlook for a rapid economic recovery is strong, if we act quickly to get relief to Oregonians," said Governor Brown. "We have the opportunity now to lift up Oregon families and businesses, by immediately investing state and federal resources to help them recover from the devastating economic impacts of the COVID-19 pandemic."
"We must do so by creating a more just and equitable Oregon, helping the communities that have been disproportionately impacted by the pandemic and wildfires. By rooting our recovery efforts in equity, we can support economic growth for Oregon's Black, Indigenous, Latino, Latina, Latinx, Asian, Pacific Islander, Native American, and Tribal communities.
"My 10-Point Plan provides a roadmap for economic recovery, and will guide our state and local governments as we invest our shares of federal dollars from the American Rescue Plan. Aligning programs and activities funded through these dollars will help ensure we are coordinating, not duplicating efforts, and collaborating on what will make a difference in our economies."
Between state and local governments, Oregon is slated to receive approximately $6.4 billion in federal funds from the ARP. The Governor also laid out her
principles for making investment decisions with ARP
. Investments should be made now in a way that maximizes economic recovery efforts for Oregonians this year, while also addressing the existing disparities that were exacerbated by the pandemic, particularly for women and BIPOC communities.
"Oregon businesses have worked throughout the pandemic to do our part to stop the spread of COVID-19. We are pleased with the direction Governor Brown is taking with this plan to immediately invest state and federal resources towards shared prosperity and a robust recovery," said Joth Ricci, CEO and President of Dutch Bros and Chair of the Oregon Business Plan Steering Committee. "Oregon businesses need both short-term relief and long-term investments like those in the Governor's plan to help get our state back on its feet and thriving."
A D V E R T I S E M E N T

A D V E R T I S E M E N T
"Without prioritizing equity we can not have social and racial justice," said Jan Mason, co-chair of the Community Chamber Coalition of Oregon. "I support the Governor Brown priority in grounding and leading with racial equity and justice. We simply cannot achieve economic justice and prosperity without these priorities."
The Governor applies these principles for equitable and rapid economic recovery in her 10-Point Plan:
Action #1: Investing in Oregon's hardest hit workers (those currently unemployed or underemployed)
Action #2: Reinvesting in innovative housing
Action #3: Supporting resilient rural communities
Action #4: Supporting Oregon's workforce (those currently employed but struggling)
Action #5: Creating opportunities for Oregonians (workforce development)
Action #6: Getting small business back on its feet
Action #7: Investing in Oregon's infrastructure
Action #8: Oregonians investing in Oregon
Action #9: Safely reopening Oregon's economy
Action #10: Innovation in manufacturing
These principles and 10-Point Plan are a starting point for conversations with the legislature, community stakeholders, the RJC, and the Governor's Council of Economic Advisors to develop a process for funding decisions related to ARP dollars. More information will be provided as decisions are made.
.
--Staff Reports
| | |
| --- | --- |
| Post Date: 2021-03-24 17:44:19 | Last Update: 2021-03-24 18:08:58 |
Fight COVID with bigger government
The Secretary of State Audits Division, under the direction of Secretary of State Shemia Fagan (D-Portland) has released an
advisory report
identifying several steps the Oregon Department of Human Services, Oregon Health Authority, and the Oregon Legislature could take to improve infection control in long-term care facilities -- which includes nursing facilities, assisted living and residential care facilities, and memory care units. The improvements identified in the report could help the COVID-19 response, as well as responses to other illness outbreaks common to these facilities, like flu and norovirus.
Among the improvements recommended and challenges identified in the report:
Additional monitoring could strengthen facilities' compliance with infection control protocols.
The state could do more to monitor and publicly report vaccinations within these facilities, including among staff.
With the COVID-19 response being a priority, complaint investigations, recertification and licensing inspections have slowed or even halted.
Oregon has minimal state regulations on staffing, infection control, emergency preparedness, and staff and resident vaccination reporting for assisted living and residential care facilities.
"COVID-19 has stressed every system in our nation and laid bare challenges and inequities that existed long before the pandemic," said Secretary of State Shemia Fagan (D-Portland). "This is a moment for all of us to take stock and ensure we are improving the vital systems and services that Oregonians count on to provide care and support. The goal of this advisory report is to offer concrete steps to improve the safety of these facilities, for the residents and the workers providing their care."
A D V E R T I S E M E N T

A D V E R T I S E M E N T
For this advisory report, the Oregon Audits Division reviewed infection control in long-term care facilities to identify gaps in Oregon's laws, rules, and practices that, if addressed, could help the state further contain the COVID-19 virus and prevent future communicable disease outbreaks. Audit staff focused on oversight of 685 long-term care facilities including nursing facilities, which are regulated by the federal and state government, and community-based care facilities, which are regulated only by the state. Community-based care — assisted living and residential care — includes almost all the state's memory care units.
Today's report is a research-based project, not an audit under government auditing standards. This reporting method allowed for a timelier project to recognize the impact on state agencies' bandwidth as they respond to COVID-19. The report has undergone the same quality assurance process as audit reports from the Audits Division.
--Staff Reports
| | |
| --- | --- |
| Post Date: 2021-03-24 10:18:12 | Last Update: 2021-03-27 09:52:18 |
Early release will re-traumatize victims of violent crime
Editor's note: This is the fourth of a multi-part series on Measure 11 and its impact on crime. This series is adapted from letters written to the legislature by Kevin Mannix, the author of Measure 11.
The attack on Measure 11 is clear, comprehensive and deliberate. This is a complete list of all the bills that make changes to the provisions of Measure 11.
Many of these, if enacted, will change the face of criminal justice in Oregon. Each of these bills requires a two-thirds majority in each chamber, which means 40 votes in the House and 20 votes in the Senate.
--Staff Reports
| | |
| --- | --- |
| Post Date: 2021-03-24 09:51:00 | Last Update: 2021-03-20 21:15:29 |
A year ago, she filed a restraining order against Hernandez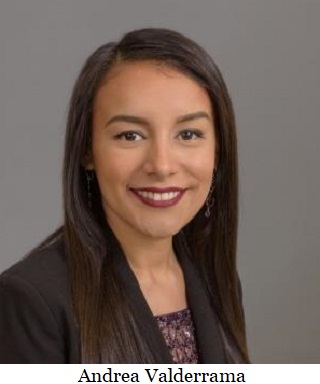 The Multnomah County Board of County Commissioners unanimously appointed Andrea Valderrama (D-Portland) to fill the vacant House District 47 seat formerly held by Representative Diego Hernandez. Valderrama will serve the remaining term of Representative Hernandez, who resigned effective March 15. Valderrama's term will last through the end of 2022.
District 47 is located entirely in East Portland between Interstate 205 and Rockwood. The district is at the center of some of the greatest challenges facing Portland, including increasing traffic deaths, poverty, and racial and health disparities.
"She's been such a strong voice and champion on immigrant rights, on women's rights and education, said Commissioner Jessica Vega Pederson, an East Portland resident and a former representative from House District 47. "I'm really proud to support her today and to look forward to partnering with her as a neighborhood resident, as a county commissioner and a constituent in the really important and big work that we have as we're moving forward."
Valderrama brings more than a decade of experience in policy and budget advocacy, grassroots community organizing and coalition building. Having grown up in poverty, she said she knows firsthand the experience of living paycheck to paycheck. She's also a first-generation college student, earning a bachelor's degree from the University of Oregon and a master's degree from Portland State University.
Most recently, Valderrama served as the policy director for the American Civil Liberties Union of Oregon. A mother and community organizer, she also serves as Chair of the David Douglas School Board. Her endorsements included Senator Kayse Jama (D-Portland), David Douglas School Board Vice Chair Sahar Muranovic, and community activist Deian Salazar.
In March 2020, Valderrama filed a restraining order against then Representative Hernandez. In court documents, Valderrama wrote that while they were living together between January and April 2019, he was prone to violent outbursts, including throwing things at her while under the influence. She said that he usually mixed "alcohol, narcotic pills and marijuana."
"I have also been a mom raising my daughter, I know what it's like to push that stroller in the mud, to be concerned about the lack of lighting and other infrastructure here," Valderrama said. "My lived experience in poverty and my values of economic justice are so critical in this role and really important for me to prioritize in all decision-making as we're looking at recovery."
--Staff Reports
| | |
| --- | --- |
| Post Date: 2021-03-24 09:45:10 | Last Update: 2021-03-24 11:23:40 |
"Everyone should have the ability to get from one place to another without the use of a car"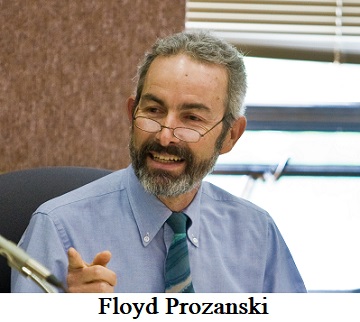 Senator Floyd Prozanski (D-Eugene), is an avid cyclist and the chief sponsor of
SB 395
. A member of his staff, Jennifer Wig, testified on his behalf saying "the goal is to expand access to safe bike and walking infrastructure and to ensure equitable access to that biking and walking infrastructure".
In 2017, the Oregon Legislature passed
HB 2017
referred to as Keep Oregon Moving. It included significant changes to the existing Connect Oregon Grant Fund directing the Oregon Transportation Commission to divide the grant fund into two new parts: 55% for air, marine, rail, bicycle, and pedestrian projects and 45%, for projects of statewide significance in air, marine or rail modes. Beyond the structural changes HB 2017 also included a new, first in the nation, bike tax of $15 each on bikes over $200.
In 2019, the Oregon Legislature again revisited the issue of pedestrian transportation options and passed
HB 2592
. This bill established the Multimodal Active Transportation Fund for bicycle and pedestrian projects. It stated that 7% of the Connect Oregon Fund plus revenues from Oregon's bicycle excise tax were to be used to provide grants for bicycle and pedestrian transportation projects. It also directed $4M of lottery revenues biannually be allocated for outdoor recreation improvement projects related to bicycle and pedestrian projects.
This session,
SB 395
, at the request of The Street Trust led by former Portland mayoral hopeful Sarah Iannarone, looks to once again adjust the funding associated with bicycle and pedestrian projects. It would increase the allocation for footpaths and bicycle trails from 1% to 5% of the State Highway Fund. One of the supporters of
SB 395
, Yamhill County Commissioner Casey Kulla testified that "Everyone should have the ability to get from one place to another without the use of a car". He explained that 1% was not enough for Yamhill county to meet the needs of pedestrian and bicycle infrastructure. He said "In our county we spent our entire 2019 allocation on one separated foot path on one rebuilt bridge.
The project that Commissioner Kulla may be referring to is the Yamhelas Westsider Trail. This was a project he championed starting back in 2013. It was a proposed 13-mile bike and pedestrian trail on an abandoned rail spur from McMinnville through Gaston. The project has been continuously tied up in land use lawsuits and appeals. Most recently, Yamhill County Commissioner Lindsay Berschauer called for an audit of the Yamhelas Westsider Trail bridge construction project. She said "According to my numbers, the county spent approximately $970K of the authorized $1,012,000 from the Connect (Oregon) VI agreement. The county spent an additional $56,250 from the parks grant. When any public agency spends a considerable amount of taxpayer money on a project and the 'finished product' does not reflect the cost or promised deliverables, an audit is warranted".
Commissioner Berschauer's oversight concerns were echoed by testimony on behalf of over 25 Yamhill residents "ODOT authorized further grant expenditures to build a bridge without land use approval or any assurance that the county could meet its land use obligations. Meaning, ODOT authorized an entity to build a bridge to nowhere" the submitted testimony said.
The bill also had concerns from other rural residents throughout the state. Kim McCarrell of Bend had concerns with the bill authorizing electric scooters to be operated on trails and the impact that could have to others who use those trails. Keith LaHaie of Central Point, asked the committee in his written testimony if the 5% increase in spending on footpaths and bike trails is the result of actual demand from residents state-wide or from region specific groups or special interest organizations?
A D V E R T I S E M E N T

A D V E R T I S E M E N T
Supporters of the bill focused on how
SB 395
could assist with equity and climate change. Lee Helfend, OPAL Environmental Justice Oregon shared that negative impacts on our environment from single vehicle occupancy usage create emissions and those have "harmful impacts disproportionately affect communities of color, low-income communities, and other vulnerable populations that lack the time and resources to fully advocate for themselves in this process". He also added that "as part of the rule-making advisory committee for the Governor's
executive order
directing state agencies to take actions to reduce and regulate greenhouse gas emissions on climate change, we've had in-depth conversations around how we cannot only address the climate crisis, but also center equity and inclusion in this charge". Brett Morgan, Metro Regional Advocacy Manager for 1,000 Friends of Oregon agreed. He said "Ensuring that we begin prioritize non-automotive investments is a critical equity issue for those that are transportation disadvantaged, and for Oregon's Black, Indigenous, Latinx, Asian American Pacific Islander, and other communities of color.
The bill is currently in the Joint Committee on Transportation.
--Terese Humboldt
| | |
| --- | --- |
| Post Date: 2021-03-24 09:14:24 | Last Update: 2021-03-24 09:45:10 |
Cities would be forced to conform
Two laws are now being proposed by Oregon Democrats that would essentially forcibly allow homeless camping in every Oregon city. Both
HB2367
and
HB 3115
are currently being discussed in the House Judiciary Committee.
Similar legislation had been attempted by the Democrats in 2017 with
HB 2215
and failed. At the time, the public was allowed to lobby the state officials in person and attend committee meetings. However this current 2021 legislative session is seeing aggressive moves from the Democrats to push through heavy handed policy and constitutional changes while the public is essentially unable to participate due to the Capitol building having banned the general public from attending.
While being discussed in a House Judiciary Committee meeting on March 9th, City of Hillsboro attorney Chad Jacobs explains that all cities in Oregon would be forced to change their ordinances to allow for the homeless encampments.
HB 2367 states that it would make violations of this "Right to Rest Act" to be unlawful practice enforceable by Commissioner of Bureau of Labor and Industries or by civil action. In other words, the state would threaten action against any city that does not accept the terms of the Act.
--Bruce Armstrong
| | |
| --- | --- |
| Post Date: 2021-03-24 06:41:30 | Last Update: 2021-03-24 07:04:03 |
Soft on violent criminals by reducing sentences
The Senate Judiciary Committee heard testimony about a bill that would gut Measure 11, and go soft on violent criminals. Under the guise of "criminal justice reform,"
SB 401
would allow rapists, attempted murders, child pornographers, and kidnappers to get up to 40% off their sentences, and is a part of a suite of bills intended to gut the spirit of Measure 11. This bill was introduced by the Senate Judiciary Committee which is chaired by Senator Floyd Prozanski (D-Eugene)
Recent polling shows that a strong majority of Oregonians support maintaining or increasing sentencing requirements for violent offenders like rapists and murderers. 78% of Oregon voters also oppose repealing Measure 11, which
SB 401
effectively does.
"This is a perfect example of the Democratic supermajority's extreme disregard for bipartisanship and consensus-building," Senate Republican Leader Fred Girod (R-Lyons) said. "Reasonable criminal justice reforms are possible, but instead Democrats opt to take the extreme position that rapists, kidnappers, and child abusers should be given lesser penalties."
"Proponents of
SB 401
cherry-pick the mildest offenses to justify completely rewriting punishments for violent criminals," Vice-Chair of the Senate Judiciary Committee, Senator Kim Thatcher (R-Keizer) said. "For victims trying to move on and heal from abuse, letting their abusers off with lesser sentences is unconscionable.
"Gutting Measure 11 would make our communities less safe. It guarantees that those who prey on kids and assault our neighbors get time in prison that they deserve. These sentencing guidelines give victims of heinous crimes the certainty they deserve; Repealing them will destroy trust in our criminal justice system."
Today, eight of the nine female prosecutors in Oregon issued a letter outlining how dangerous bills, like
SB 401
, in the legislature would cause more victims to suffer in silence.
SB 401
is scheduled for a work session on April 7. The Northwest Observer is featuring a
multipart series on Measure 11.
--Staff Reports
| | |
| --- | --- |
| Post Date: 2021-03-23 18:02:54 | Last Update: 2021-03-23 18:18:26 |
Oregon does not ask permission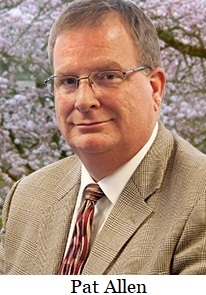 Parents' Rights in Education is asking: "Do Oregon parents know that the Oregon Health Authority gathers private info about their children?" The Oregon Health Authority, under the direction of Pat Allen, gives students the
Oregon Student Health survey
every two years starting at age 10. When they reviewed the survey for 2020, they found profiling questions giving 17 choices for face or ethnicity, along with sexual identity, and socio economic questions. The 36 page survey probes into their home life, personal sexual experiences and whether condoms are used, drinking and smoking habits, and yes there are COVID-19 questions including job loss and suicide. When the question is asked who did you go to about physical or mental health problems, parents wasn't an option, not even to write in.
Reading how the questions are framed, it becomes clear they are promoting School-Based Health Centers and diverting the student away from parental controls. It's accentuated by questions like who at school really cares about you, or who notices when you're absent.
There is a heightened awareness regarding race and ethnicity, sexual identity, bullying and how those factors affect a suggestion of feelings, depression and self-harm. If they're not depressed by the end of those questions, they are asked about hygiene, eating, gambling, drinking, smoking and sexual habits. To be continued with questions on what they and family members think about these habits along with questions about family members being depressed, drinking, and what makes them fearful.
When Parents' Rights in Education investigated the dangerous and invasive content shown to 10-year-olds, they discovered the survey was illegal under: 20 U.S.C. § 1232h - U.S. Code - Unannotated Title 20. Education § 1232h. Protection of pupil rights, which puts limits on survey, analysis, or evaluations.
No student shall be required, as part of any applicable program, to submit to a survey, analysis, or evaluation that reveals information concerning--
(1) political affiliations or beliefs of the student or the student's parent
(2) mental or psychological problems of the student or the student's family
(3) sex behavior or attitudes
(4) illegal, anti-social, self-incriminating, or demeaning behavior
(5) critical appraisals of other individuals with whom respondents have close family relationships
(6) legally recognized privileged or analogous relationships, such as those of lawyers, physicians, and ministers
(7) religious practices, affiliations, or beliefs of the student or student's parent, or
(8) income (other than that required by law to determine eligibility for participation in a program or for receiving financial assistance under such program).
As Parents' Rights in Education points out, Oregon does not ask permission. Parental/guardian permission is assumed if not physically submitting a filled-out Oregon Student Opt-Out Form, which most schools provide parents at the beginning of the school year regarding all permission activities. However, the Opt-Out Form only lists:
Human Sexuality Education
Sexually Transmitted Disease (STD) and Sexually Transmitted Infection (STI) Education
Immunization
Mental Health Screening
No where does it allow an opt-out for health surveys. What does the Oregon Health Authority do with this possibly illegally acquired information about you, your student and your family's thinking and habits through the eyes of your 10-year-old?
--Staff Reports
| | |
| --- | --- |
| Post Date: 2021-03-23 16:27:03 | Last Update: 2021-03-23 18:02:54 |
SB 223 Targets Private Schools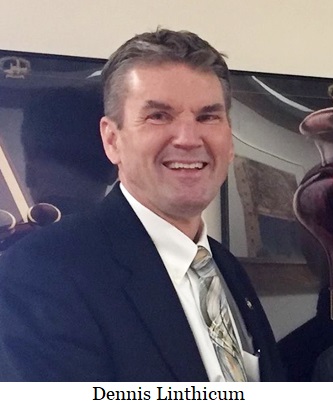 Sen. Linthicum on Democrats Targeting Private Schools with SB 223 Senator Dennis Linthicum (R-Klamath Falls) issued a statement on
SB 223
, which he calls a direct attack on private schools through mandatory state registration:
"The state is seeking complete control of Oregon's private schools with SB 223. The bill claims to allow 'voluntary' registration for private and religious schools with the Department of Education. However, it insidiously forbids schools that choose not to register from participating with other organizations that provide accredited interscholastic activities, such as sports, music, vocational training, or apprenticeships.
"Private schools are already accredited, and many private schools out-perform their peers in public schools. SB 223 would allow state bureaucrats and their special interest counterparts to actively hijack local, independent, and community-controlled educational opportunities. Centralized state control would thwart local school board initiatives and squash parental contributions and insight.
"Pressuring private schools to abandon their fruitful endeavors for obedience to the state's one-size-fits-all regimen will dismantle the private, religious, parochial, and charter school paradigms that have been successful in Oregon. The corrosive pressure from the woke-minority of the Democrat-led legislature will undermine scholastic competition, traditional values, and American ideals that have been integral components of our educational heritage.
"I see increased educational opportunities as the solution to Oregon's failing school performance problem. Parents with genuine concerns need better alternatives for improving the lives of their children, and SB 223 does the opposite by taking school choice options from those parents.
SB 223
has no sponsor. It was introduced by the Senate Committee on Education, chaired by Senator Michael Dembrow (D-Portland).
Senator Linthicum has made it a priority to advocate for school choice and has sponsored three bills this session:
SB 657
increases the percentage of kids who can enroll in virtual charter schools from 3% to 5%.
SB 658
would establish an education savings account program to give low-income families the ability to choose a private school without tax penalties.
SB 659
allows any child to attend any school in the state without the approval of the school board.
--Staff Reports
| | |
| --- | --- |
| Post Date: 2021-03-23 10:59:36 | Last Update: 2021-03-23 12:15:08 |
Other distance guidelines have been adjusted
Referencing a
recent change
announced by the Centers for Disease Control and Prevention, the Oregon Department of Education has changed it's guidelines for distancing between students in the classroom from six fee to three feet.
In
a letter
announcing the changes, the Oregon Department of Education said, "The Center for Disease Control's March 19, 2021 Science Brief revised physical distancing recommendations for K-12 schools to reflect at least 3 feet between students in classrooms and provides clearer guidance when 6 feet is recommended or required." The Oregon Department of Education is Directed by Colt Gill.
The 89 page manual for school guidelines, entitled
Ready Schools, Safe Learners
has been updated, and several other changes have been made.
Revised physical distancing requirements to align to new CDC guidance outlining the conditions for when at least 3 feet apart is possible for between students.
Removed requirements for 35 square feet and revised requirements and recommendations to align to new CDC guidance.
Revision to cohorting requirements and recommendations. Cohorts up to 36 students recommended. Removal of the 100 person maximum limit in cohort design.
Added requirement that desks face in the same direction, where possible.
Added requirement that 6 feet should be maintained when masks cannot be worn, including when eating. Removed requirement for establishing a minimum of 35 square feet.
Removed requirement for establishing a minimum of 35 square feet.
Added requirement to maintain 6 feet physical distancing for all levels (K–12) during activities involving increased exhalation, such as singing, shouting, band, sports, or physical activity.
Revised the definition of "physical distancing" and added a new definition of a "distinct cohort."
The Oregon Department of Education letter
makes a strong case for continued mask wearing:
"SARS-CoV-2 infection is transmitted predominantly by respiratory droplets generated when people cough, sneeze, sing, talk, or breathe. CDC recommends community use of masks, specifically non-valved multi-layer cloth masks, to prevent transmission of SARS- CoV-2. Masks are primarily intended to reduce the emission of virus-laden droplets ("source control"), which is especially relevant for asymptomatic or presymptomatic infected wearers who feel well and may be unaware of their infectiousness to others, and who are estimated to account for more than 50% of transmissions. Masks also help reduce inhalation of these droplets by the wearer ("filtration for personal protection"). The community benefit of masking for SARS-CoV-2 control is due to the combination of these effects; individual prevention benefit increases with increasing numbers of people using masks consistently and correctly."
It goes on to cite extensive research that has informed changes in the guidance.
--Staff Reports
| | |
| --- | --- |
| Post Date: 2021-03-23 10:24:29 | Last Update: 2021-03-23 10:59:36 |
Read More Articles