Event was advertised as a "demonstration"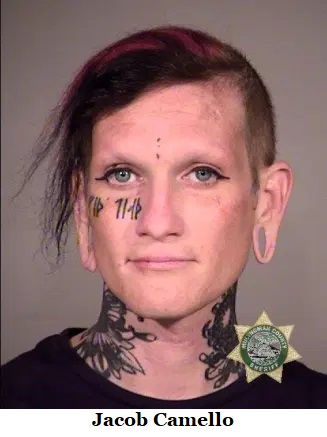 Only two people were arrested following a violent march in the Portland Northwest District Neighborhood. The march, which was advertised, became a riot when participants began blocking streets, breaking windows, applying graffiti, and pushed their way into a restaurant.
The event, which was billed on social media as an "autonomous demonstration," began in Couch Park at about 9:00p.m. with about 75 people mostly dressed in all black, or "bloc" attire designed to make it difficult for police to identify lawbreakers.
The group began marching in the streets about 9:15p.m., and within 15 minutes reports of broken windows and graffiti came in.
Some members of the group forced their way into a tavern/restaurant in the 2200 block of Northwest Hoyt Street.
A resident who was taking video of the march had a rock thrown through his window. Graffiti was applied on a Tri-Met bus shelter and a Moroccan restaurant at Northwest 21st Avenue and Northwest Northrup Street.
The group was advised via loudspeaker and Twitter that the behavior of the crowd constituted a riot and they were advised to leave to the north.
Few if any of them complied. The group eventually wandered back into Couch Park and dispersed.
Officers arrested two people and booked in them into the Multnomah County Detention Center:
Jacob A. Camello, 29, of Portland -Criminal Mischief in the First Degree (2 counts)
Crystal M. Miranda, 29, of Portland -Criminal Mischief in the First Degree
Camello was in possession of items used to cause criminal mischief.
--Bruce Armstrong
| | |
| --- | --- |
| Post Date: 2021-04-24 16:22:42 | Last Update: 2021-04-25 10:08:13 |