On this day, November 29, 1928, Paul Simon (d.2003), later Senator of Illinois, was born in Eugene.
Also on this day, November 29, 2012, Rebecca Jeanette Rubin, a 39-year-old Canadian citizen and environmental radical, turned herself in to the FBI at border in Blaine, Washington. She was part of a cell in Eugene, Oregon, known as the Family, and was sought for setting fires at a Vail ski resort and a lumber mill in Medford, Oregon.
Party can nominate candidates as late as August 30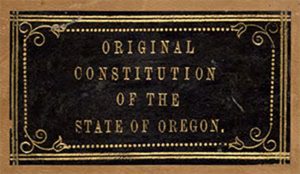 T
he Constitution Party of Oregon has announced that it is not too late to run for political office as a nominee of the Constitution Party. According to a release, if you hold constitutional values and would like to make a difference, you may still seek nomination with their party.
Recently, three new candidates have stepped forward with a desire to run for governor of Oregon. They will announce which of these three will be their nominee after their next regular meeting on May 21
The party's nominating committee will be active and can nominate candidates for the general election, for an office at any level, as late as August 30, 2022.
The deadline to register to vote in the general election is October 18.
--Staff Reports
| | |
| --- | --- |
| Post Date: 2022-05-20 16:36:34 | Last Update: 2022-05-20 16:50:41 |