Graduates are more likely to have jobs, less likely to be incarcerated, and on public assistance
O
regon Secretary of State Shemia Fagan has released an
audit on K-12 education
which identifies five key risks that, according to the report, "could undermine K-12 system improvement as the state implements the 2019 Student Success Act, Oregon's fourth major K-12 improvement effort since the 1990s."
The five risks identified by the report are:
Risk #1: Performance Monitoring and Support:
Performance monitoring is crucial to school improvement. State leaders and policymakers must work with ODE to ensure monitoring of district performance and state support when needed to promote success.
Risk #2: Transparency on Results and Challenges:
To foster accountability and timely adjustments, leaders and policymakers must require thorough reporting of school improvement results and challenges.
Risk #3: Spending Scrutiny and Guidance:
Leaders and policymakers should support ODE in providing more analysis of school district spending, helping districts focus spending on student support and offset rising costs.
Risk #4: Clear, Enforceable District Standards:
Oregon's Division 22 standards for K-12 schools lack clarity and enforceability, allowing low performance to persist. To increase accountability for state funds and student success, leaders and policymakers must balance local control of school districts with reasonable, enforceable standards.
Risk #5: Governance and Funding Stability:
Reforming education is a complex, long-term effort, requiring leaders and policymakers to set clear goals and foster a long-term focus. A large number of separate programs, unrealistic timelines, and frequent changes in funding priorities and leadership can undermine reform efforts.
In a stinging indictment, the report clearly identified recent high-level strategic policy failures in Oregon K-12 education. According to the report:
In 1991, the Legislature passed the Oregon Educational Act for the 21st Century, a major overhaul whose most direct school improvement provisions were CIM and CAM — certificates of initial and advanced mastery — intended to drive classroom rigor. They were never required for graduation, despite significant investments of time and resources, and the Legislature abolished them in 2007.

In 2011, the Legislature created an Oregon Education Investment Board to oversee a unified education system from early childhood through post-secondary education. The board developed strategic initiatives to spur improvement and required districts to sign "achievement compacts" as part of the budgeting process. By 2015, the investment board and the achievement compacts were gone, and by 2017 many of the initial programs established by the strategic initiatives and network grants were changed, eliminated, or replaced, with limited analysis of lessons learned.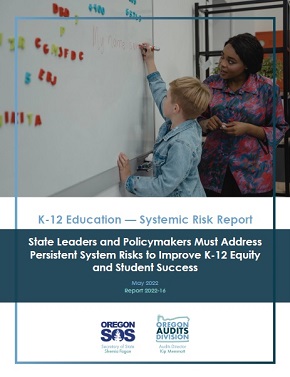 The Legislature replaced the investment board with a Chief Education Office under the Governor and charged it with building a unified education system, a major undertaking. In 2015, the Legislature set a June 2019 sunset date for the office, and most of its functions related to strategic investment and educator training were transferred to ODE.
The report acknowledged the gravity of the recent spending authorized by the legislature. "The Student Success Act provides an extra $1 billion of tax money a year for early childhood education and K-12 school improvement. It requires the Oregon Department of Education to track district performance and work with districts to improve, building on other recent state and federal initiatives and bringing the state the closest it has been to meeting the funding recommendations of the Quality Education Model. Oregon's previous three major K-12 improvement efforts were all abandoned, underscoring the importance of addressing risks early on."
It's axiomatic that education is important, but the report underscored the importance of graduation, saying "High school graduation is a critical milestone for students. Research indicates graduates are more likely to have jobs, less likely to be incarcerated, and less likely to rely on public assistance than students who drop out. They are also less likely to have problems with drugs and more likely to live long, healthy lives."
--Staff Reports
| | |
| --- | --- |
| Post Date: 2022-05-31 09:36:48 | Last Update: 2022-05-31 10:59:10 |