Projectiles thrown and burning dumpster used by crowd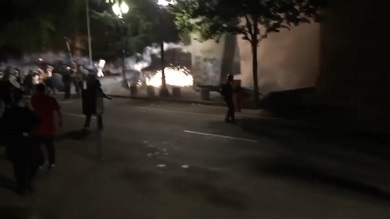 On January 27, 2021, at approximately 9:51 p.m., a large group that had gathered outside of the Immigration and Customs Enforcement (ICE) offices in the 4300 block of South Macadam Avenue of Portland, and began blocking vehicular traffic by moving construction cones and barriers in to the street.
Around 10:30 p.m., the group pushed a dumpster, which had been lit on fire, in front of the ICE building on South Bancroft Street. Federal officers emerged on the ICE property in an attempt to move the crowd away so the fire could be put out by Portland Fire and Rescue.
Around 11 p.m., Portland Police officers responded to the location to assist Federal officers in creating an area where Portland Fire and Rescue could safely arrive and extinguish the dumpster fire. After the fire was extinguished, Portland Police left the area.
A D V E R T I S E M E N T
A D V E R T I S E M E N T
At 11:28 p.m., Federal officers began taking rock-like projectiles from the crowd. Portland police once again responded to assist in dispersing the crowd from the property. As the crowd was dispersed, a crowd control munition was used, and one person was taken into custody.
After the crowd had been dispersed, 50-60 people returned to the ICE building and continued to throw some projectiles towards the building and block traffic on South Bancroft Street. The crowd eventually left the area after 12:00 a.m.
Portland Police did use crowd control munitions but did not deploy any CS gas.
The following person was arrested and booked into the Multnomah County Detention Center on the following charges:
Nilsson, Karl Anders, 20-year-old, Riot, Disorderly Conduct II, Attempt Assault on a Public Safety Officer
--Bruce Armstrong
| | |
| --- | --- |
| Post Date: 2021-01-28 16:09:48 | Last Update: 2021-01-28 16:32:51 |